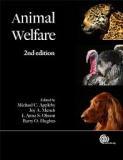 Animal welfare /
Appleby, Michael C.,

ISBN: 1845936594
Pub. Date: c2011.
Call Number: QL85 .A66 2011 MAIN

Animal ethics / Clare Palmer, Peter Sande -- Understanding animal welfare / Linda J. Keeling, Jeff Rushen and Ian J.H. Duncan -- Environmental challenge and animal agency / Marek Spinka and Francoise Wemelsfelder -- Hunger and thirst / Ilias Kyriazakis, and Bert Tolkamp -- Pain / Ignacio Vinuela-Fernandez, Daniel M. Weary and Paul Flecknell -- Fear and other negative emotions / Bryan Jones and Alain Boissy -- Behavioural restriction / Georgia J. Mason and Charlotte C. Burn -- Health and disease / Michael S. Cockram and Barry O. Hughes -- Behaviour / I. Anna S. Olsson, Hanno Wurbel and Joy A. Mench -- Physiology / Dominique Blache, Claudia Terlouw and Shane K. Maloney -- Preference and motivation research / David Fraser, Christine J. Nicol -- Practical strategies to assess (and improve) welfare / Andrew Butterworth, Joy A. Mench and Nadja Wielebnowski -- Physical conditions / Birte L. Nielsen, Michael C. Appleby and Natalie K. Waran -- Social conditions / Francisco Galindo, Ruth C. Newberry and Mike Mendl -- Human contact / Paul H. Hemsworth, and Xavier Boivin -- Genetic selection / Paul M. Hocking, Richard B. D'Eath and Joergen B. Kjaer -- Economics / Richard Bennett and Paul Thompson -- Incentives and enforcement / Ute Knierim ... [et al.] -- International issues / Michael C. Appleby and Stella Maris Huertas.
Holdings: 1
Available: 1